These Companies Are Extending Their Deadlines for Bill Payments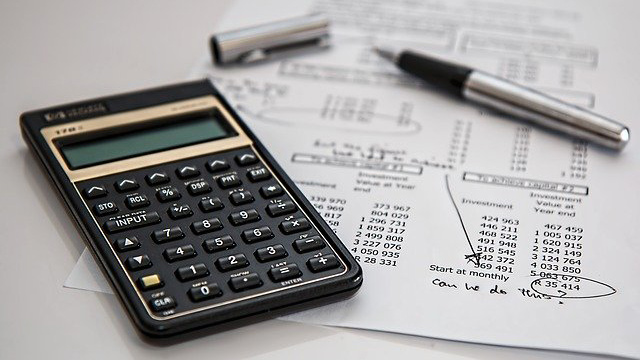 Utilities:
Meralco
[facebook:https://www.facebook.com/meralco/photos/a.881785878501651/3301162629897285]
On March 16, the country's largest electricity distributor announced on its Facebook page that Meralco customers can pay their bills 30 days after the due date.
"Thus, for all Meralco bills due from March 1 to April 14, 2020, we are providing a 30-day payment extension from your due date."
To ensure that there will be no energy disruption in your area, the company is also postponing maintenance activities "unless necessary, to ensure continuous electricity service."
For more information, contact Meralco's hotline at 16211.
Maynilad
[facebook:https://www.facebook.com/MayniladWater/photos/a.1449685608671638/2233309040309287]
The water services provider also announced on its Facebook page that customers can pay their bills on April 14.
Their announcement made special mention of the members with overdue accounts.
It read, "Pansamantala muna naming sususpindihin ang disconnection ng overdue accounts ng Maynilad customers hanggang Abril 14, 2020.
"Ito ay para masiguro na ang lahat ng customers ay may magagamit na tubig, lalo na para sa mga aktibidad na kritikal sa pagpapanatili ng kalusugan at sanitasyon."
For customers who may want to pay on time, they may course their payment through their online banking apps or via mobile fund transfer such as PayMaya.
For more information, contact the Maynilad hotline at 1626.
PLDT, Smart, and Sun
[facebook:https://www.facebook.com/PLDTpublicaffairs/photos/a.576461082425634/3624198170985228]
Telecommunication conglomerate PLDT Inc. is also implementing a "30-day payment extension period" across their subsidiaries PLDT Home, PLDT Enterprise, Smart Communications, and Sun Postpaid.
"We hope this enables you to work and study from home and get the latest information that will help you take the right actions in caring for the health and wellness of your loved ones," it stated on their Facebook announcement posted on March 15.
For more information, contact PLDT at 171; Smart Communications at *888 on mobile and 888-111 on landline; and Sun Postpaid: *776 for mobile and 395-8776 on landline.
Globe
[facebook:https://www.facebook.com/GlobeIcon/photos/a.1575719675979020/2553782014839443]
Globe is giving a "30-day bill payment extension" to all its postpaid subscribers, including businesses and enterprises.
Customers who would want to pay in the comforts of their home may do it through the GlobeOne or Globe At Home mobile apps.
For more information, contact 7730-1000, or send a message on their Facebook page.
Banks
BPI
[facebook:https://www.facebook.com/bpi/posts/2989635121082640]
BPI is offering an extension to their "qualified clients," saying: "We are extending a 30-day grace period for qualified credit card, personal, home, auto, and SME loan clients to help ease the burden during these trying times."
According to BPI's Facebook post, "qualified clients" will receive an e-mail containing BPI's terms and conditions.
Eastwest Bank
[facebook:https://www.facebook.com/EastWestBanker/photos/a.265078493562477/3758641920872766]
EastWest Bank is granting "eligible customers" a 30-day extension for payment of bills such as credit card charges and "auto, personal, mortgage and EEI loans."
This was posted on the bank company's Facebook page on March 16 with the note, "An e-mail or SMS advice will be sent to customers who will qualify under this payment extension program."
In the SMS advice shown by an EastWest bank member to PEP.ph, the bank is notifying the client that they are giving him/her the choice to skip paying for the month without being charged a "late payment fee."
For more information, contact EastWest Bank's hotline at 8888-1700.
RCBC Bankard
[facebook:https://www.facebook.com/RCBCBankard/photos/a.185551121530032/2836504899767961]
Rizal Commercial Banking Corporation is also granting their Bankard members a "payment holiday." In an announcement on Facebook, they shared that "Cardholders in good standing and with due dates from March 16 to April 15, 2020 can skip their due dates and make a payment 30 days after." Those who choose to pay on time, you may do it online via their website or app.
For more information, contact RCBC Bankard at 8888-1888 or visit their website.
Home Credit
[facebook:https://www.facebook.com/homecreditph/posts/1720724178068759]
Finance provider Home Credit will grant payment extensions to members who will request it through e-mail or phone call.
The instructions were posted on their Facebook page on March 17: "If you need payment extension due to COVID-19, e-mail us at info@homecredit.ph with the subject 'COVID HELP' and fill out the form or call us at 7752-5712."
Cable Television
Sky Cable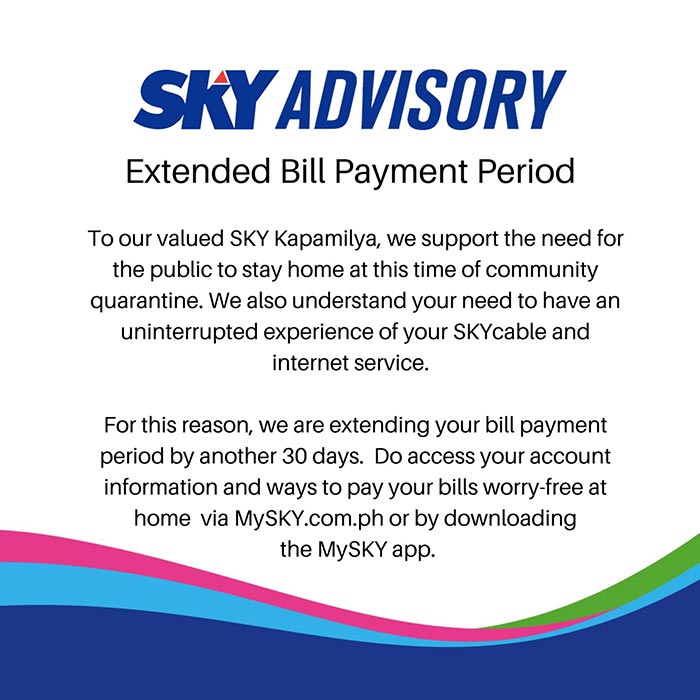 With the intention of providing its customer with "uninterrupted cable television and internet services," Sky Cable is extending their members' bill payment period "for another 30 days."
They are also giving the option to pay their bills "worry-free" at home through their website or through the MySky mobile app.
For more information, contact Sky Cable hotline at 3381-0000.
Cignal TV
[facebook:https://www.facebook.com/cignaltv/photos/a.1437042109847827/2537517036466990]
Cignal TV is implementing a 30-day payment extension for its postpaid subscribers "for you and your families to stay informed and be entertained, especially during these difficult times."
To guarantee that you still receive your billing statements as scheduled, Cignal is encouraging its members to enroll in the e-bill program on their website.