Art Bar is now accepting pick-up and delivery orders at their branches in Serendra, Power Plant Mall, and Quezon Avenue!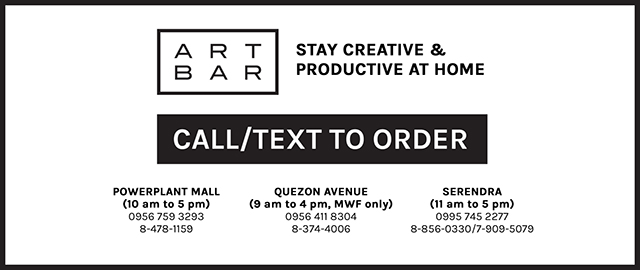 To place an order, simply call or text the branch closest to your home. You may refer to the above image for the contact numbers and operating hours of each store. Once the store has confirmed your order, you can pay via bank transfer or credit card—they'll provide you with the necessary details when you contact them. Once you've settled your payment, you can book a courier of your choice to pick up the items and bring them straight to you!
You can browse Art Bar's website to see what's available or ask the store of your choice directly if they have what you're looking for. They've got tools for all kinds of arts and crafts like sketching, painting, calligraphy, mixed media, collage making, or anything else you want to try. You can shop paint, brushes, canvases, illustration books, calligraphy pens, pencils, papers, colored markers, stamp pads, and more from brands like Faber Castell, Daniel Smith, PanPastel, Shin Han Art, Caran d'Ache, Natural Earth Paint, Ooly, and Sennelier, among others. They even have books on art history and creative techniques to help you brush up on your skills and knowledge. Ready to start on your next big project?
.. some of the items you can shop: